Vladimir Guerrero Jr's feats of strength are increasingly too numerous to track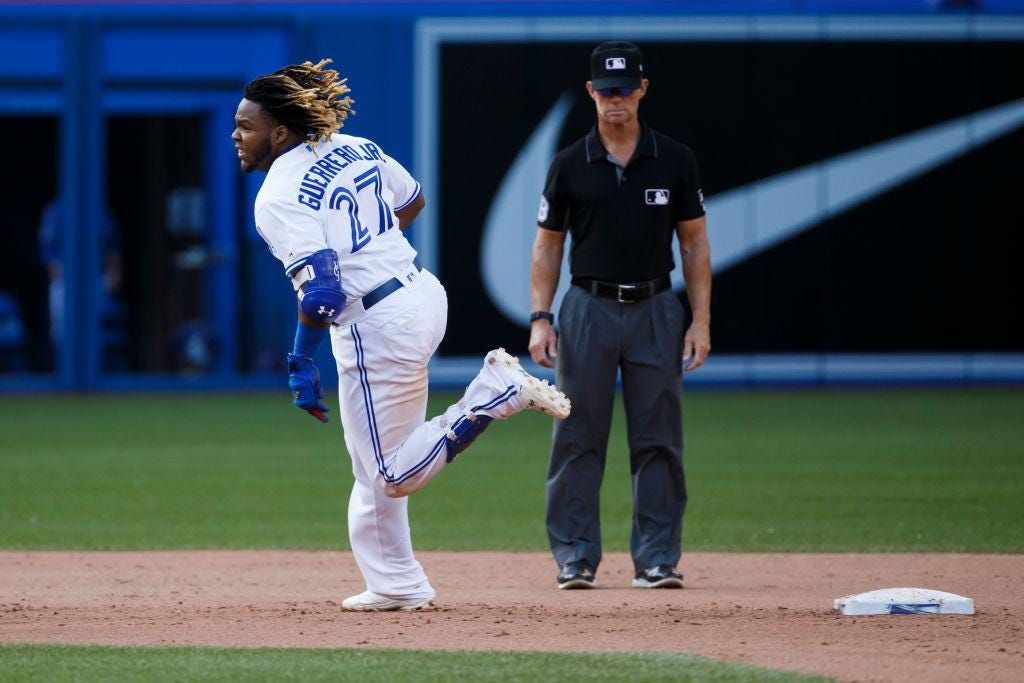 Photo by Cole Burston/Getty Images
---
We're at a point where Vladimir Guerrero Jr does something interesting just about every day. One day it's the first triple of his career, an opposite field slap that pushes across two huge runs in a late-and-close game.
The next it's a 329 foot single, a batted ball that left the bat in excess of 118 mph, the latest in his "if you can't go over the fence, why not go through it?" oeuvre. Then there's the tense, late-game battle against arguably the most dominant relief pitcher the game has ever known. The GIDP That Launched A Thousand Thinkpieces, all signs point to Vlad Jr hitting his stride.
Every day we see something new, something more encouraging that what we saw before. At some point along the way, Vlad Jr realized just how good Vlad Jr can be.
It is not news to Guerrero that he can hit, and while his confidence was surely tested during his early season, there's no reason to believe it ever wavered. But there was a moment during that 13-pitch battle with Aroldis Chapman, just a stolen glance, that suggested to me so much about young Guerrero's headspace at the moment.
This comes after the tenth pitch of the at bat. He took a vicious hack at the previous pitch, a fastball down the middle. Guerrero fouled it back and looked very comfortable doing it. This pitch was a slider that caught too much of the plate that Vlad Jr also fouled back.
It was the pitch that, in my mind, Vladdy really wanted to touch. And he looked out to the inexpressive Chapman and smirked a little. Two straight pitches that the young slugger just missed, but he knew he was close and he knew that Chapman knew it, too.
Such is the confidence of youth and the rate at which Guerrero is becoming comfortable in his surroundings. He still isn't hitting as many home runs as we want, given the state of the game and the way other young players are clouting dingers, to say nothing of the league at large. But the home runs will come. You can only hit so many baseballs so hard without a few extra sneaking over the fence.
Or maybe they won't. If the line drives just keep crashing into walls rather than over them and artfully poked balls down the first base line persist, he'll be fine. Better than fine, in fact. He's already significantly above average as a big league hitter, which is to say nothing of his selective endpoint numbers that gloss over the rough patches.
There's no "OFF" position for Vlad Jr's star switch. Everything he does will attract extra attention and heightened expectations. He and his entertaining cohort won't need much time before they're not just making noise for its own sake, but in service of winning important ball games and chasing titles. It's real close. The linchpin looks ready.